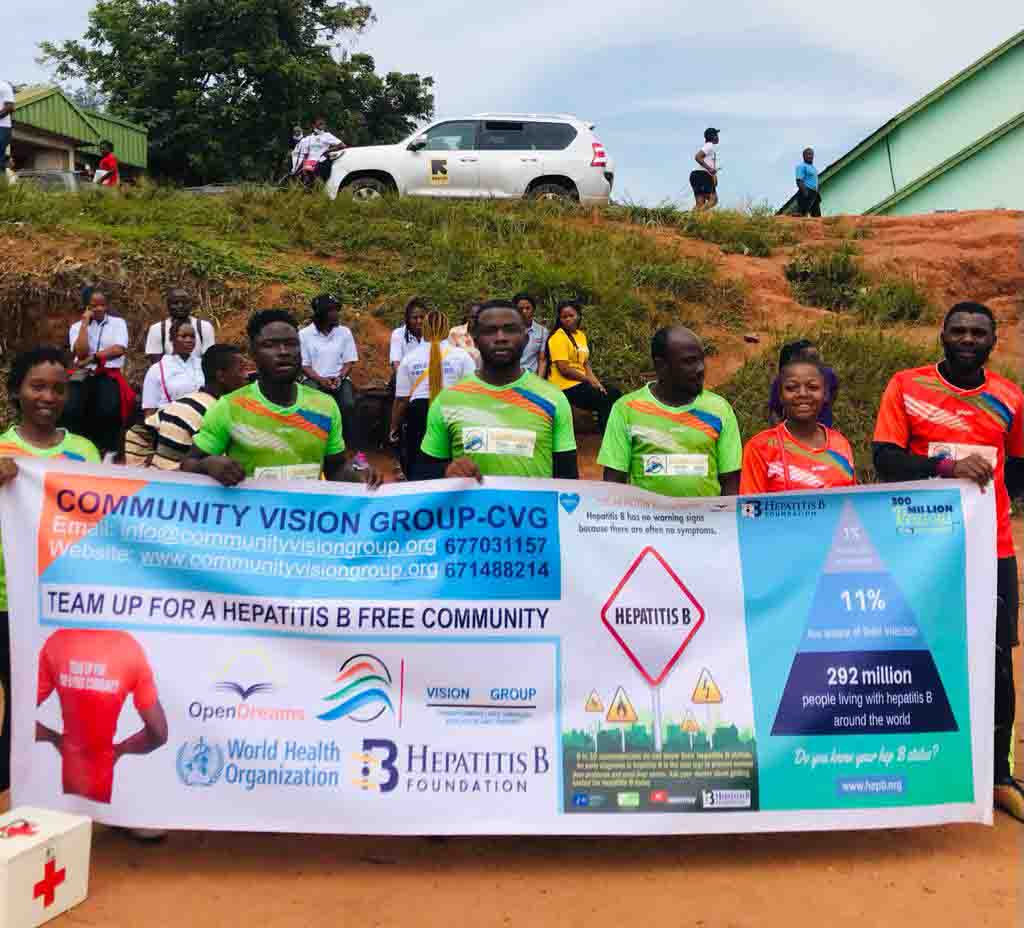 Healthcare Campaign and Support
Notice: Test mode is enabled. While in test mode no live donations are processed.
3.1. Hepatitis B Awareness, Screening, and Support
"Over 2 billion people (or 1 in 3) have been infected and about 300 million people are living with a Chronic Hepatitis B infection. Each year, up to 1 million people die from Hepatitis B even though it is preventable and treatable" – Hepatitis B Foundation. Our Strategic Focus Community Vision Group is determined to counter this silent public health challenge via awareness-raising campaigns and the provision of care and support. The  Hepatitis B Campaign is a movement initiated in Cameroon and Malawi by the Community Vision Group as one of its strategic objectives is to support towards education and awareness raising on viral Hepatitis B. Starting January 2021, this initiative has a mission to prevent liver cancer caused by Hepatitis B. As a volunteer movement, we envisage a community where people have a protected and healthy liver. Our activities include:
Outreach initiatives
Educational campaigns
Support towards rapid screening
Care and support (advisory) for Hep B patients
We build on a team of volunteers who are connected by a shared desire to make a difference in their communities. This Awareness and Advocacy program is run entirely by volunteers who generously give their time, skills, and resources. Our team now encompasses people from diverse backgrounds and professions who each enrich our organization and enable us to have a greater impact. Volunteers will always be essential to the work of the Community Vision Group Hepatitis B Campaign. Why Awareness and Advocacy is important to us We believe education is a powerful tool to effect change. We adapt and develop educational materials for use in our areas of intervention. Where possible, we translate these into languages appropriate for the local context (for instance, Chichewa in the case of Malawi). Locally, we also educate the public through our community events, social media, and through university student societies. Our key public events will include social media campaigns and World Hepatitis Day. We support the global movement, "No Hep", an initiative raising awareness to eliminate hepatitis B by 2030.
3.2. Integrated Child Eyecare and Community Eyecare Centres
Over 253 million people are visually impaired globally, 90% are in low-income and middle-income countries and over 80% stem from avoidable causes (Aghaji et al. 2018). More so, uncorrected refractive error is the most common cause of reduced vision across the world (over 1 billion people) with severe social, economic, and educational impacts. At the level of education, Children require at least 3 eye screenings before the age of 6, but barely 50% get them due to poverty, affecting their studies. It has been noted that refractive error remains the most common cause of visual impairment among school–going, children. For instance, the prevalence of visual impairment caused by a refractive error in school-going children is estimated to be  5 – 8% and even higher in older children, 10 to 11 years and above Community Vision Group believes in preserving sight to brighten up lives. We are dedicated to delivering regular yet free eye screening and treatments especially in remote communities and schools to ensure sight loss is prevented. We have at the core of our intervention the establishment of an Integrated Child Eye Health Program and the creation of Eye Care This initiative seeks to establish a school eye health program as a sustainable model to deliver eye health services to children. We approach this initiative holistically by
Conducting routine eye screening tests of all pupils and students in their schools for detection of uncorrected refractive error
Carrying out eye health assessments on each child using the pen torch. Simple eye conditions (allergic and bacteria conjunctivitis) are treated on the spot and
capacity building for child eye care, especially for teachers.
Our long-term plan is to establish Community Eyecare Centres. These centers aim to provide eye care services to rural communities like eye testing. We also provide professional comprehensive and quality eyewear to all in need. Our services are not based on the ability to afford but on the need. It is a misconception to believe that we only need to see an optometrist when there is something wrong with our eyes. Many eye conditions for children and adults are asymptomatic – meaning you will not know you have it unless a thorough examination is conducted. A comprehensive eye test checks the refractive status of the eye, the neurological function, eye muscle coordination, eye health, and eye pressure. Eye tests are necessary to rule out any underlying conditions and ensure optimum eye health. Thus, Community Vision Group is passionate to accompany the public in ensuring access to quality and affordable eye care services. Our services are essential for all, particularly children and people who are 60+, with systemic conditions like hypertension, diabetes, cholesterol & arthritis.