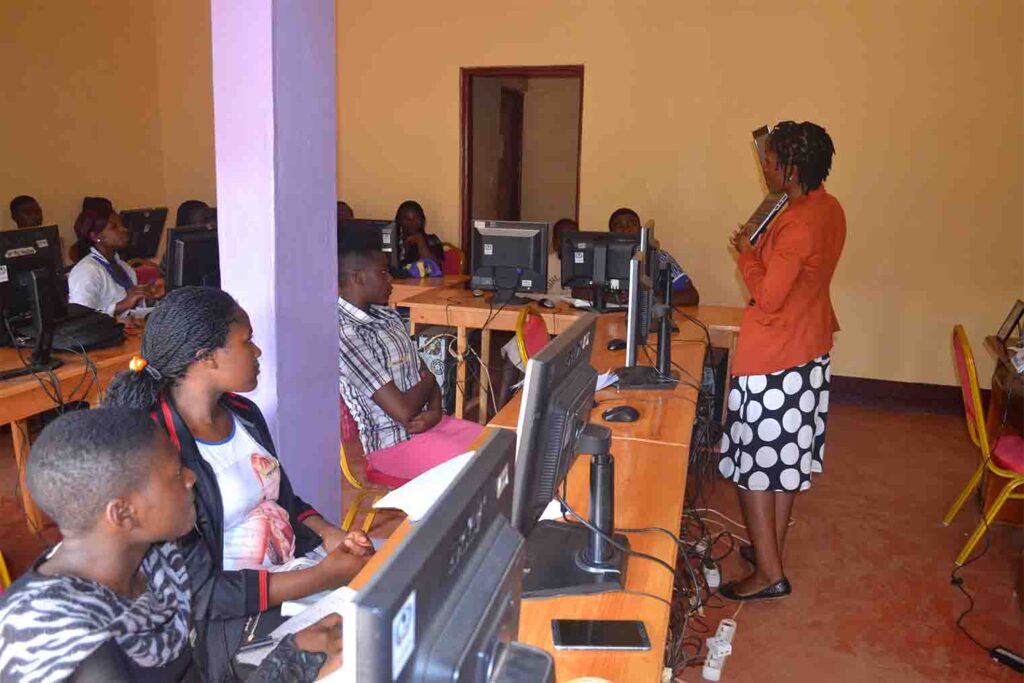 Allied Education Support
Notice: Test mode is enabled. While in test mode no live donations are processed.
Overview
"Education is the most powerful weapon you can use to change the world" – 
Nelson Mandela.
In Africa, many governments have made primary education "free" but this very important stage in the life of every child is destroyed by the poor quality of education provided and thus, a challenge to a poverty-free world. Community Vision Group believes that access to quality primary education provides a solid foundation for children to strive for adulthood and thus serves as an escape route out of poverty. Our Quality primary education program includes Backpack Support, Energy-for-education, Train-to-Teach, and the establishment of Community Libraries
2.1. Backpack Support
Community Vision Group's goal is to enable and support children and young people in their education. To bring children to education and to increase retention rates. Community Vision Group supports children with didactic materials through our back- to-school pack campaign. It is not enough to enroll a child in school but formidable when each child is fully equipped with a backpack. What our backpack looks like? We tailor our backpacks to meet the needs of our beneficiary children for an academic year. This means, every year, we desire our beneficiaries to have a sense of newness as they get to their place of education. As such, you can choose to sponsor a child or a certain number of children over the years the child or children have to go through primary and or secondary education. Our backpack support ideally includes exercise books, colored pencils/crayons, pens, rulers, calculators, erasers, water bottles, and pencil sharpeners. With this support, a child is ready for school every year and equipped for success.
2.2. Energy-for-education
More than 700 million people in Africa do not have access to electricity and this has adverse effects on children and women. As of 2018 according to the World Bank data, only 31.5% of the rural communities (percentage of the rural population) had access to electricity. Specifically, only 23% in Cameroon and 10.4% in Malawi had access to electricity and these energy sources are highly unreliable. Communities can go for weeks or months without electricity and this makes education for children a restricted venture as they cannot study at night to adequately compete with their urban counterparts. For many students and teachers across the African continent, energy poverty is a challenge faced every day both at home and at school. In fact, 90 million children in sub-Saharan Africa go to primary schools that lack electricity. In effect, the teaching-learning process is conducted without facilities like projectors, computers, or access to the internet because of a lack of electricity. Even though these percentages seem like something is better, rural elitism is evident as only the home of a few who can afford solar energy or purchase a generator (environmentally unfriendly) are counted among the few. The very poor and vulnerable population is left out and their children study under very poor conditions – with some only studying only during the day to benefit from the gift of nature while others resort to using bush lamps and traditional "Torokang". This is not just deleterious in terms of educational outcomes but very damaging to their health as sight is strained. Community Vision Group is not out to electrify every village, but our mission is to electrify schools, light up study rooms and become a game-changing organization in the lives of pupils and students. Through our Energy-for-Education Programme, we are determined to have children in rural schools study in an environment that is similar to that of their urban counterparts. It does not take much to lead this big change, and that is the reason we believe so much in shared responsibility.
2.3. Train-to-Teach
"With the train-to-teach program, Community Vision Group believes in the potential of children and their communities, and we aim to develop a collective leadership portfolio that will catalyze education and expand opportunities for all children. This is all the need to shape their future and change the world around them" (Gilbert Miki, Founding President, and CEO, of Community Vision Group) At the dawn of the Millennium Development Goals, national Governments were charged with the provision of access to free primary education (MDG 2). IN 2000, it was noted that over 57 million primary school-age children do not attend school and that over four out of five of these children live in rural areas. The urban-rural knowledge and education divide was seen as the main barrier to achieving universal primary education. The teaching-learning process is further compromised by the lack of trained and qualified teachers. While national governments have created more schools, this does not translate to quality education as most of the schools are in acute lack of teachers, some are left in the hands of Parents Teacher Associations while others simply have one teacher responsible for more than two classes. This brings to question the issue of quality which Community Vision Group has considered as an addendum to the School Feeding program. Through the train-to-teach program, we carry out the following activities:
3.
Partner with Community Development associations and Councils to recruit young and dynamic primary educators into our Primary Teacher Training Fellowship Programme
4.
Provide access to Teacher Support to incentivize teaching through our VillageTeacher Support Scheme
5.
Establishment of Primary Teacher Resource Centres for Continuous Development of teachers Our train-to-teach program impacts the classroom profoundly and ours is the desire that every child should access quality education, support, and opportunities that have the potential to shape their future and their world. This program is locally rooted but globally informed.
2.4. Community Libraries
There is a popular saying that if you want to hide something from a man, put it in a book. This is so true for a cross-section of African communities where the reading culture is very low. This is not just because of declining literacy levels but also because of the lack of books. "I have tested and benefitted from the power of books, and I want every child even in the most remote communities in Cameroon and Malawi to see, touch and read books. Books give power, transform our mindsets, and transition communities with the embedded knowledge of generational thinkers" (Miki, Community Vision Group Founding President, and CEO). With our Community Library Programme, we want children to access books that will enrich, improve, and change their lives. Community Vision Group works with partners to set up and equip community libraries as well as equip school libraries with relevant books. To increase access to books, our growing team of volunteers reaches out to even the most remote communities with books through our Mobile Reading Programme, thereby creating access to books where the barriers to reading and learning are at their most challenging. And those challenges have never been greater than they are now, given the experience of the COVID-19 pandemic and raging conflicts In the words of Dr. Alice Prochaska (Chair of Book Aid International), "a book might seem like a small thing in the fight against inequality – but we see every day how a book can spark a transformation. Books light up imaginations and ambitions. They are powerful tools for fighting poverty, improving education, challenging discrimination, and building a more equal world for all." Through our Community Library Initiative, in communities where teachers struggle to encourage children to dream big, where it's hardest to become a doctor, and where there has never been a library before, Community Vision Group will be present to put the power of books in people's hands. We will do this by:
Establishing community libraries
Integrating technological systems to provide access to Virtual Learning Facilities
Training of Community Library Managers
Organizing reading clubs and reading contests at local, regional, and national levels